Charleston Banker Shares Heart-felt Connection to American Heart Association
3/3/2020
Walking alongside co-workers, friends and family at the American Heart Association's Lowcountry Heart Walk, Commercial Banker Nate Harrison carried the stories of two people very close to his heart.
Harrison didn't realize his involvement with the American Heart Association would begin 25 years ago, after a date with his wife, when he met his future father-in-law. The two men developed a bond, with the older mentoring then-teenaged Harrison.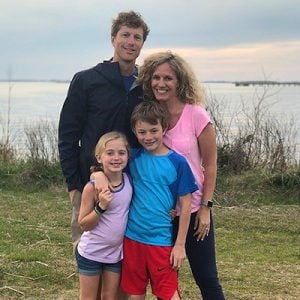 Harrison cherished the relationship, knowing that his father-in-law's diagnosis of congestive heart failure meant their time together shouldn't be taken for granted.
After many years and further complications due to his heart condition, Harrison's father-in-law succumbed to his illness in 2014.
However, the family's encounter with heart disease didn't end there. Just before the passing of his father-in-law, Harrison welcomed a daughter, born with a heart abnormality.
"We were sitting in MUSC and did not know what was going on. It was scary, especially considering my father-in-law's history of heart complications," he recalls about the time his daughter spent in the hospital.
Through the power of prayer, love and great doctors, Harrison's daughter overcame her heart condition.
Knowing there's still much work to be done to make a difference in the fight against heart disease, Harrison says it was an easy decision to join the Lowcountry Heart Walk's Executive Leadership team.
"It has been a joy to assist in planning this year's walk, and I am honored to represent South State. The Lowcountry Heart Walk's Executive Leadership team is making strides to build a healthier Charleston community, and I'm proud to be part of this incredible team," Harrison says.
Heart disease remains the No. 1 killer of all Americans, and stroke is the fifth-leading cause of death in South Carolina. The Lowcountry Heart Walk raises funds to combat cardiovascular disease and increase prevention and awareness about healthy lifestyle choices.
South State sponsored the event and had two teams participating and raising funds for the cause. In addition to sponsoring the walk, South State sponsored four events during American Heart Month, providing $19,000 in support to the American Heart Association.
South State is proud to have team members like Nate Harrison who demonstrate leadership not only in their work but also in their community. Partnering with the American Heart Association and fighting against heart disease is just one way that South State is making a difference in our communities.