Kirkland Brings Perspective, Positivity to Charlotte
10/22/2019
Charlie Stewart still has the letter John Kirkland wrote to him after Kirkland's interview for a position at then-Park Sterling in 2009.
"He said 'If you hire me, I'll be the best employee you've ever had'," recalls Stewart, Commercial team leader at Charlotte's Morrison location. "And he's right."
Kirkland, a senior utility assistant, holds celebrity status at both the Morrison and Morehead offices. Armed with a genuine, joyful nature, he comes in early to greet each of his co-workers, always by name and often with a high-five or nickname he's given them.
"They say I'm peppy in the morning," Kirkland laughs.
Kirkland joined Park Sterling through the InReach program, which connects adults with developmental disabilities to employment opportunities that fit their abilities and interests. Stewart, a family friend, knew Kirkland could do the job but couldn't have imagined how much he'd uplift those around him.
"(Helping him get hired) is the best thing I've ever done," Stewart says. "He puts life and what's really important in perspective for us."
"He makes you want to come to work," agrees Ginger Whisnant, administrative assistant and Kirkland's supervisor.
Though Kirkland started his career in banking doing odd jobs around the Morehead office, he's proven his value with more significant tasks. "I know my strengths and help anyone who needs it," he says.
In fact, Kirkland assembles the teller training packets with 30 types of sample transactions, not just for the Charlotte region, but the entire South State footprint. At Morrison, he also assists private bankers with mailings and loan officer assistants with depositing their transaction tickets.
When South State acquired Park Sterling in 2017, Consumer Banking moved to Morrison, taking Kirkland there full time and leaving a void at Morehead. It didn't take long for the Treasury team to devise a plan to bring him back.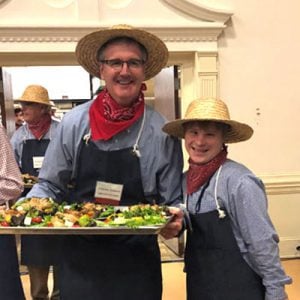 "If we could be 10% more like John, the world would be a better place," says Mark Schuch, Treasury Management product manager.
Kirkland now works at Morehead two days a week, scanning documents, adding them to client files and making sure files are complete. Schuch recently invited Kirkland to sit in on a few meetings, allowing him to see how his projects push bigger goals forward.
Whisnant says people now realize Kirkland isn't limited by his Down syndrome and, at one point, she was receiving too many requests for his help.
When Kirkland isn't moving through his to-do list, he's consulting another list — the best pizza in Charlotte — to help his co-workers choose where they should go for lunch. As you might imagine, Kirkland's intentionality and kindness extend beyond the walls of South State, remembering the names of all the staff working at the restaurants they frequent.
"It's like going out with a celebrity," says Anne Hixson, treasury management product implementation manager at Morehead.
Approaching his 10-year anniversary with the bank, Kirkland sees that he's improved office culture with his unique perspective and sunny spirit. "I know I make a difference in the way I touch people's hearts and inspire them," he says. "I always want to show a positive side."
When Kirkland finally takes vacation days, something Whisnant has to persuade him to do, he misses his co-workers terribly. "The friendships here are so dear to me," he says.
And he doesn't plan on leaving those friends behind anytime soon.
"I see the potential to grow at South State," he says. "I'm excited about what I can continue to do here."
Whisnant believes Kirkland embodies the company's motto of building relationships better than just about anyone. "If John weren't here, it wouldn't be South State."